Mates Rail Head Phase I & II
You can view the location of the project on the map below!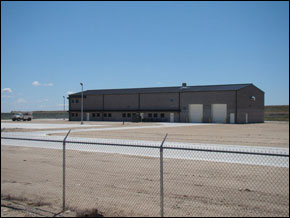 Owner:
USPFO for Idaho
3479 West Harvard Street
Boise, ID 83705
Project Manager: John Cristobal
Performance of Work:
C-2 Construction, Inc. constructed 2 separate railhead projects under one single firm fixed price contract for the IDAHO ARMY NATIONAL GUARD. The Project was located near the Orchard town site approx. 16 miles South East of Gowen Field, Boise Air Terminal, Boise ID. The project included but was not limited to construction of two rail spurs converging into one rail line leading into the Mates Base site. The rail line leads into a (4) track rail yard with tracks of varying distances.
C-2 Coordinated with Union Pacific Railroad to make the connection to the main rail line for each spur that is constructed. Seven miles of rail spur was constructed on the site including each of the 4 lines in the rail yard. The rail yard consists of includes multi-level ramp with associated foundations for loading mobile equipment onto rail cars. This project also included the construction of a short span rail bridge that the rail line travels over in two locations.
We constructed an extensive roadway network, a 100 ton truck scale, a helipad with associated lighting, storm water drainage network, grading, and area lighting around rail yard.
Work also included construction of a new 9640 Sf. Operations Control building with multiple offices, shop area, storage areas, fencing, gates, site lighting, electrical distribution, security, communication networks, potable water supply, fire suppression system, sanitary sewer including lift station, and storm water drainage network.
This project was constructed and delivered on time per the governing contract documents. There were increases in contract value and schedule duration due to the Government requirements to add items to the scope of work.
More Photos